Amazon RDS on VMware
What is AWS RDS on VMware?
Amazon RDS on VMware is a service that makes it easy for customers to set up, operate, and scale databases in VMware-based software-defined data centers and hybrid environments. Amazon RDS on VMware automates database provisioning, operating system and database patching, backup, point-in-time restore, storage and compute scaling, instance health monitoring, and failover.
It extends the managed database experience of AWS Relational Database Service (RDS) to your on-premises VMware environment using the Amazon RDS technology that hundreds of thousands of customers use.
This extends the  AWS RDS features to manage your local database in your datacenter.
How does this work?
Amazon RDS connects to your on-premises VMware Environment (VMware Customer Availability Zone) by VPN and Direct Connection with internal vSphere Cluster.  You'll install RDS Connector and some other multiple VMs (Control Plane) to manage your Local Database (Oracle, MS SQL, MySQL,…..)
You'll integrate with Backup System on AWS and S3 support is in future plan, not supported now.
From the AWS RDS Console, you can manage your on-premises Database with all the RDS features.
Note: till now not all AWS Datacenter Support RDS on VMware.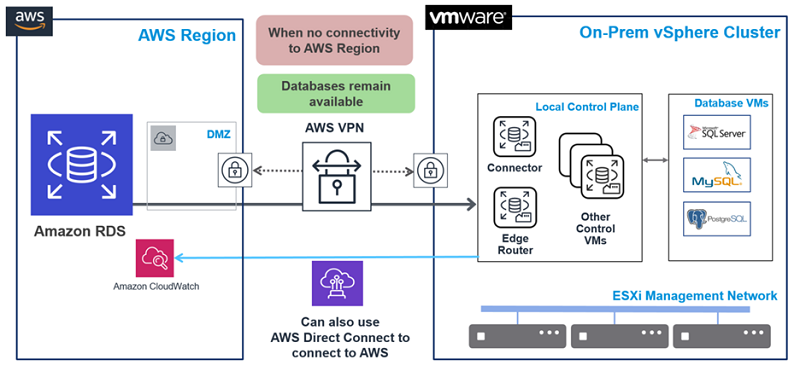 Benefits:
Reduces the cost for managing the database.
High-availability hybrid deployments and durability and resiliency features by VMware HA, RDS, FT and AWS Technologies.
Read replica bursting to Amazon RDS
Long-term database archival in Amazon Simple Storage Service (Amazon S3).
Amazon RDS on VMware supports Microsoft SQL Server, PostgreSQL & MySQL.
Easy to administer
Performant and Scalable
Leverages existing infrastructure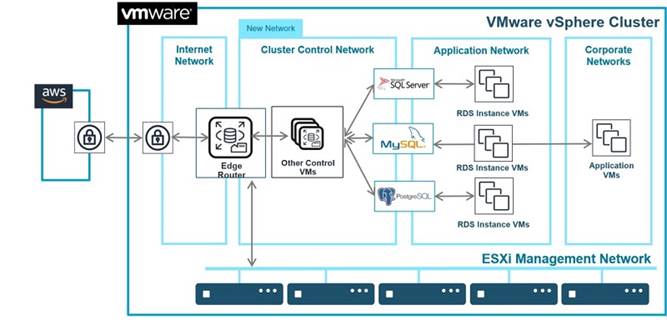 Hardware Requirements:
Minimum :
24vCPUs, 24-GB RAM, and 180 GB of storage available for the RDS on VMware Virtual Machine
Note: You need more Hardware Resources for Application VM (Database Servers)
Software Requirement:
VMware vSphere
VMware vCenter
VMware Enterprise Plus License
AWS Account
2 VLAN on VMware Environment
DHCP

Allow outbound to ports 50, 500, 4500 (IKE/IPSec for site-to-site VPN, UDP or TCP)

, no VPN SW is required.
Note: VMware vSAN or NSX not require but it's nice to have it.
Summary:
If you want to use the fully features on (Amazon AWS RDS , Backup Service, S3 for Archiving) to Manage , Control and Maintaining  your Local Database on on-premise datacenter. This solution will help you.
References:
https://cloud.vmware.com/rds-on-vmware/resources#videos
https://cloud.vmware.com/rds-on-vmware/resources#white-papers
https://cloud.vmware.com/rds-on-vmware/resources#demos
Visit us at AWS re:Invent on our VMware sponsor page! VMware experts will be presenting different RDS on VMware demos every week during 12:15-12:45pm across AMER, APAC and EMEA on Tuesday, Wednesday and Thursday, every week from 30th Nov to 18th Dec.
View this Document to read more about VMware's presence at re:Invent. For a deeper dive, watch this joint webinar on modernizing databases with RDS on VMware.